Discussion Starter
·
#1
·
The Region 2 Virginia Department of Game and Inland Fisheries (VDGIF) Conservation Police Officers (CPO - Game Wardens) headquartered out of the Forest VA Regional Office teamed up with a group of Henry County businesses to host a Disabled Veterans / Military Appreciation fishing event on Saturday, April 26, 2014. The event was scheduled earlier but postponed due to inclement weather. The event took place at a private pond near Turkeycock Mountain, a little east of Martinsville, VA. The pond was stocked with a truck load of 2-5 pound rainbow trout purchased with donated private funds from a commercial fish hatchery. The pond also holds a healthy population of bass, bream and crappie. Because it was a private pond located on private land a fishing license was not required. Any legal method of fishing was allowed and any fish caught could go in a cooler for later consumption.
Smith River Trout Unlimited (SRTU) was invited to set up a booth to promote the chapter and to give fly fishing instruction to those who wanted to learn more about that aspect of the sport. Here we see several members sharing a laugh while waiting for the participants to arrive.
Rob Lurie, a Certified Fly Casting Instructor with Project Healing Waters shows one of our hosts and his two sons the basics of casting.
The crowd begins to grow. Many knew each other and those that didn't soon made new friends. All shared many common life experiences, tribulations and interests.
Things start off at noon with a short welcome, overview of planned activities, Pledge of Allegiance to the Flag and blessing of the food.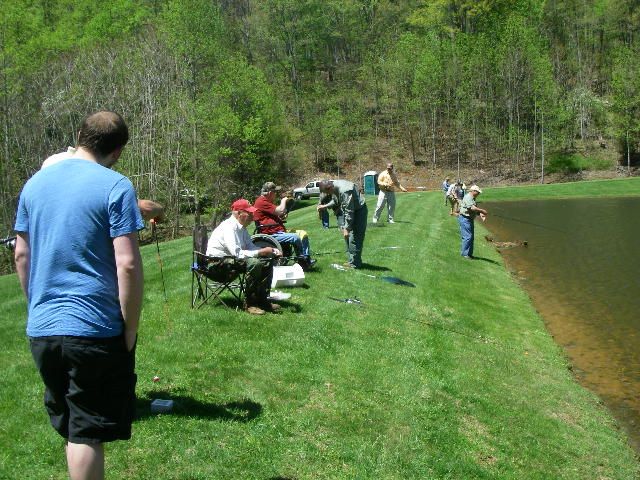 Okay, we got that out of the way, let's go fishing. The end of the pond proved to be popular because it was level enough for those with crutches and wheelchairs. It was also the deep end where it was hoped many of the trout would be.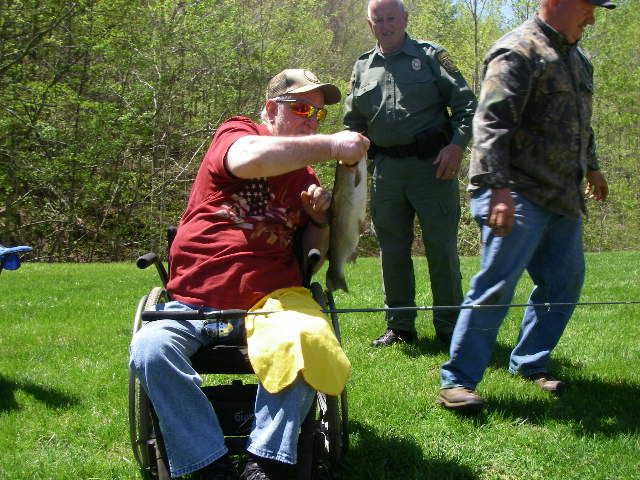 It doesn't take long for one of the trout to take it's last meal. This Vietnam Vet took a bullet through both shoulders and has been confined to a wheelchair ever since. Unfortunate yes - but it has not stopped him from getting on with life and enjoying the great outdoors.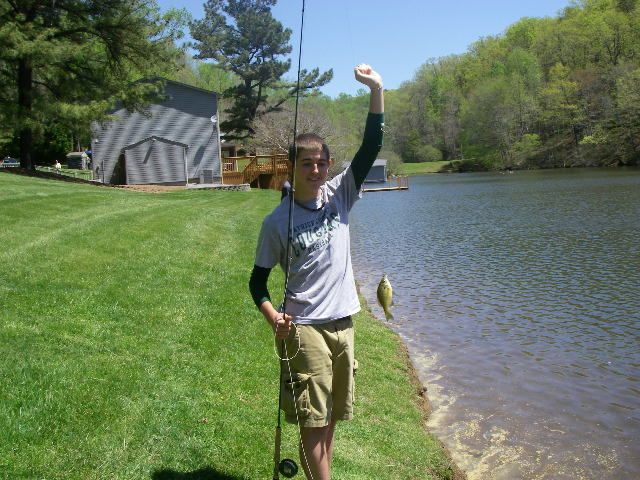 This young fellow proudly displays his first fish ever caught with a fly rod.
Not to be outdone his younger brother uses the same fly rod to catch one a little bigger.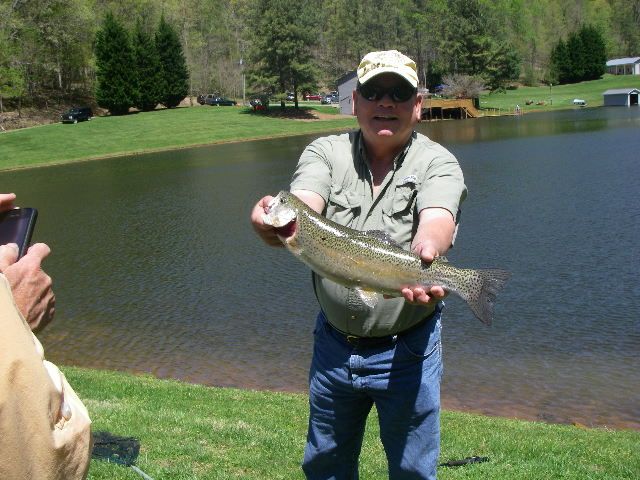 It pains me to show this one but my buddy Paul accidently caught this nice trout while showing one of the disabled vets how to fly fish.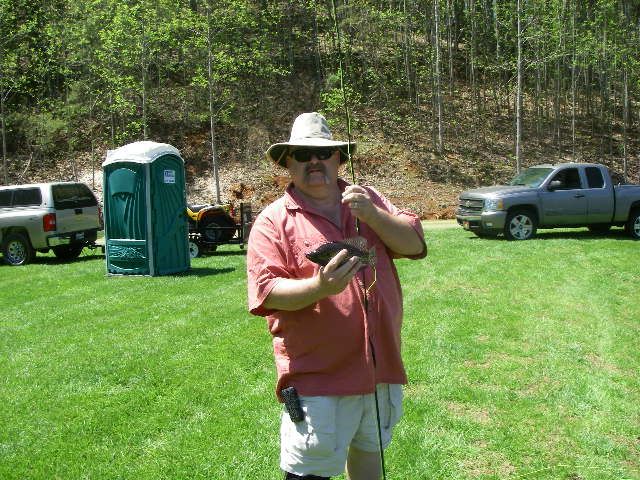 The crappie and bream also gave a good account of themselves.
I saw several nice stringers of crappie going on ice.
Not bad for the first time with a fly rod. Of course he is now spoiled. Both boys, the sons of our hosts, are now hooked on fly fishing and look forward to fly rods of their own.
Things wrapped up with a few tall tales and recognition of those with big fish, most fish, etc.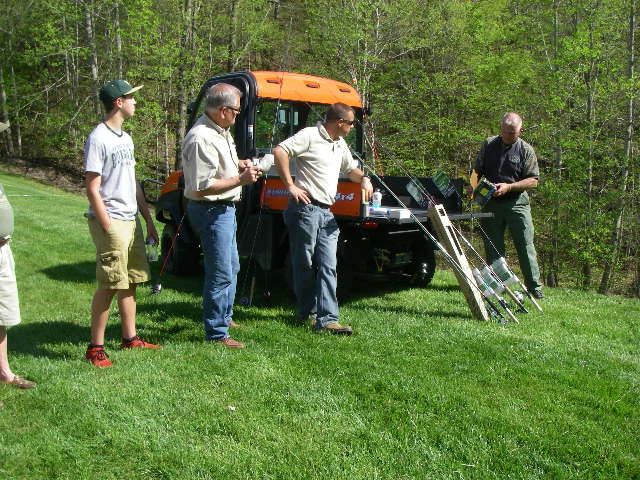 There were enough donated prizes for each participant and everyone who showed up to help. My guess is the retail value of food, drinks, stocked fish and door prizes exceeded several thousand dollars.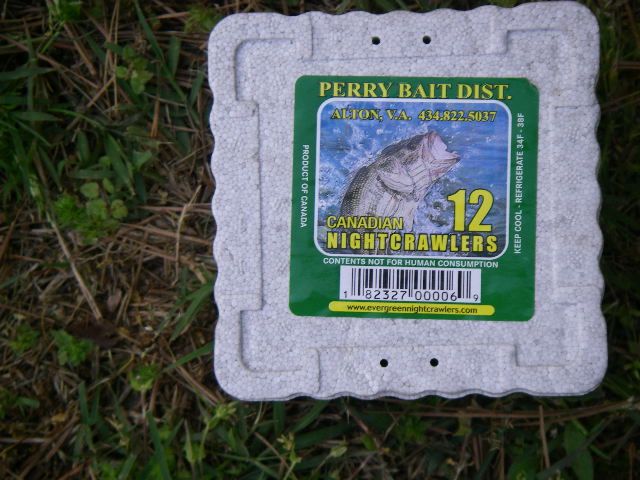 My buddy Paul had to leave before door prizes were given out. His "accidentally" caught trout qualified for one of the fly rods but knowing he already had several rods I selected an empty worm box for him instead. This box being made of Styrofoam should hold his flies securely. I will help him fill it by placing a half dozen Allieworms in there before presentation.
As a disabled vet myself I think I can speak for all the participants. Our sincere thanks to CPO Sergeant Karl Martin for acting as the focal point for organizing this wonderful event and to the Hopkins family for providing such a splendid venue. Events such as this give us reason to reflect that our service and sacrifices were not made in vain. We really appreciate it.