Discussion Starter
·
#1
·
The NCWRC Pechmann Fishing Education Center was honored to host a group of Wounded Warriors on Wednesday, April 9, 2008. This event was a continuation of a program started several months ago which saw a partnering of the Pechmann Center and a group of local fly fishermen with Fort Bragg's Womack Army Medical Center to provide the Wounded Warriors with a respite from their daily rounds of medical appointments and evaluations.
Previous events have included basic casting instruction followed by catch and release fishing on two of the Center's ponds, which during the winter months, have held trout.These trout are a cold water species used in the Center's annual fly fishing clinics. The Pechmann Center located in Fayetteville must dispose of the trout before they succumb to what by mid April becomes a warm water venue. Participants of the final fly fishing events are allowed to harvest their catch. Those that are not caught during fishing events are scooped out, placed on ice and donated to one of Fayetteville's food banks.
Today's program was a fishing only event. While we encouraged fly fishing, we also opened it up to any legal method to include spinning and bait. We also invited the Wounded Warriors to bring their immediate families for an afternoon of fishing. Between 25-30 took advantage of the occasion.
The pond temperatures are rising to the high end of 60 degrees. Some of our volunteers have reported good top water action in recent days followed by near skunks the next day. Obviously the fish are becoming stressed by the steady rise in temperatures. The Wounded Warrior fly fishermen scored first but for the most part they were having a hard time of it.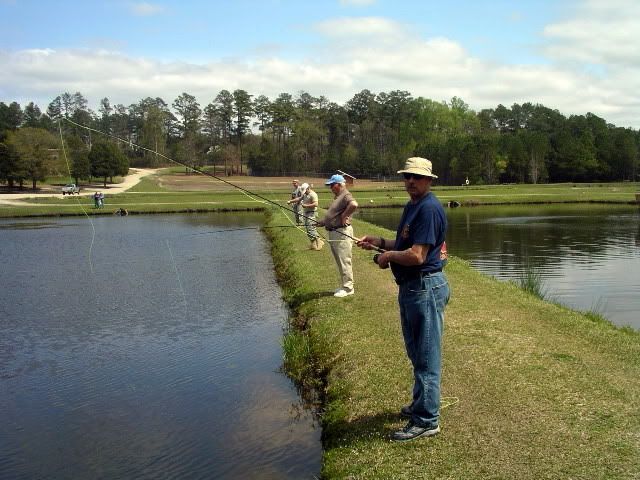 The fellows who did the best followed your scribe's advice and ran up to Walmart for a can of yellow whole kernel corn. This bait, fished near the bottom, resulted in several fish being placed on stringers.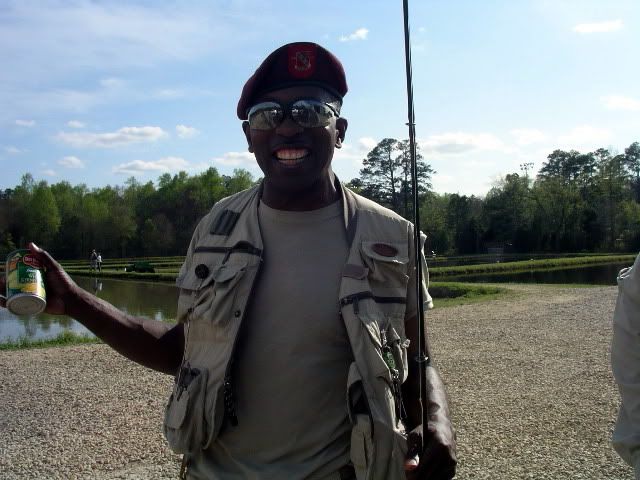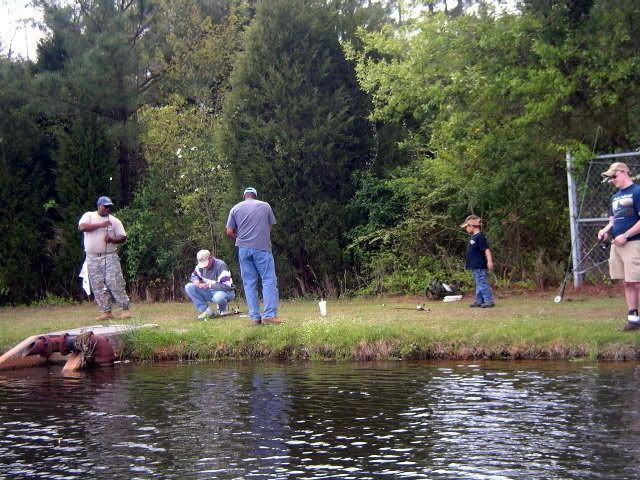 When it became obvious that the trout were not going to go into a feeding frenzy for those fishing with flies we opened up the striper, bream and catfish ponds on a "catch and release" basis. If you have not caught a 5 pound catfish on a 4-5 weight flyrod, you are in for a treat.
This young soldier's first fish ever , (not just first fish caught on a flyrod), warranted the traditional kiss before release.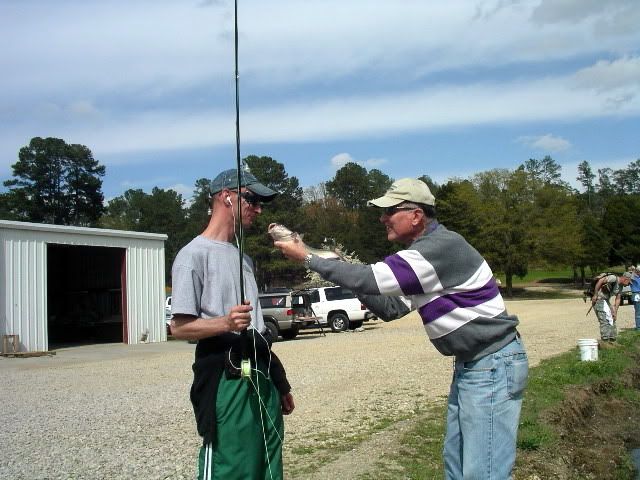 Catch of the day included this small turtle that could not resist a nibble of corn.
The cleaning station was a popular spot at the conclusion of the event. These fellows said they were going to pool their catch to have a fish fry back at the barracks.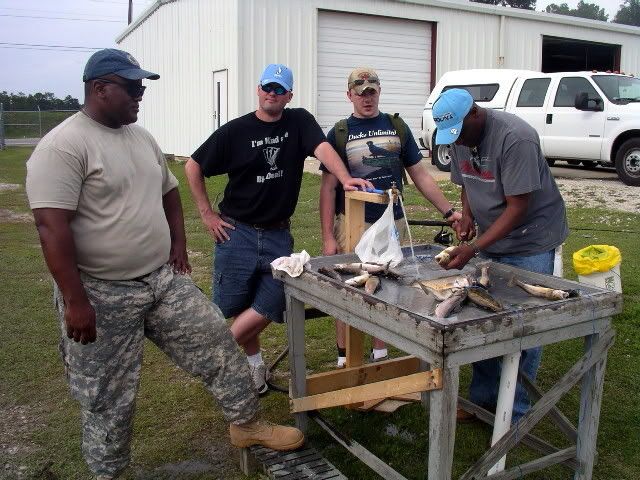 And so ends another great afternoon with some of America's finest young men and women. One of them said to me, "I'm all stove up now, but I'm glad I did it". We should all be thankful that there are folks such as these willing to stand between us and those that are intent on destroying the American way of life.
The next Wounded Warrior event is scheduled for Wednesday, May 14, 2008 from 1-5 p.m.. The program will focus on fly fishing for warm water fish