Discussion Starter
·
#1
·
The NCWRC Pechmann Fishing Education Center in Fayetteville, NC was honored to host a Wounded Warrior Fly Fishing event on Monday, February 25, 2008. These events are a result of a recent partnering between the Pechmann Center and the US Army Womack Medical Center to offer wounded soldiers a little respite from the daily round of medical appointments, evaluations and administrative proceedings as they attempt to return their lives to normal after experiencing the trauma of war. Instruction and mentoring for the events comes from the Sandhills Fly Fishing Club who are augmented by a group of local volunteers who help on a regular basis with the Pechmann Center's fly fishing clinics. Many of our volunteers are themselves veterans of previous conflicts which helps them relate to the plight of the soldiers.
Many of today's participants were here for the first time. Several had never held a flyrod in their hands before. We also had a half dozen who had attended previous events. Our program has adapted to accommodate this varied group. We start off with a welcome and very brief overview.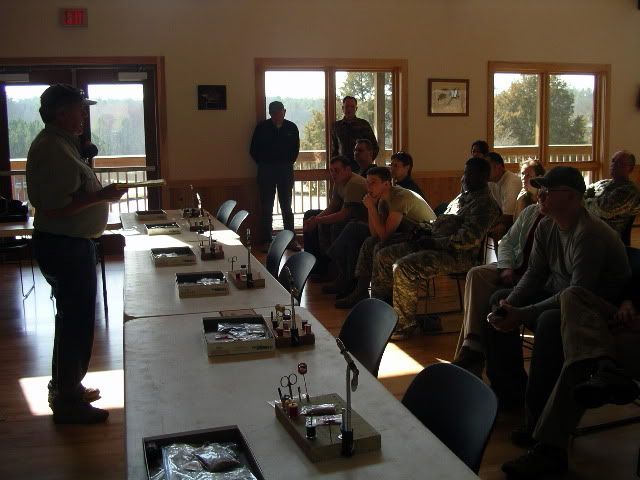 They are divided into two groups. Those that were new to fly fishing started with knots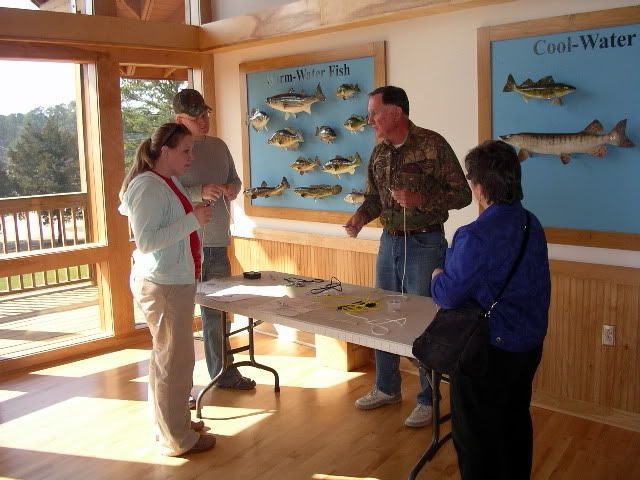 and rod assembly
They then went to one of the Center's ponds where flyrods were laid out ready for them to pick up. After a quick explanation and demonstration by one of our volunteers they were soon trying it themselves. We had sufficient volunteers to give them one on one instruction.
Those that had attended previous events were taught the basics of fly tying. This was the third time that fly tying was added to the curriculum and it has been very well received. Many of the participants have already purchased their own vise and tools. Many more were overheard talking about doing the same thing. Our volunteer fly tying instructor takes great pride in teaching others the various skills necessary to be competent in what is another aspect of fly fishing. (The lady in red with a microphone is a reporter from National Public Radio who was producing a story about what is happening with our wounded warriors)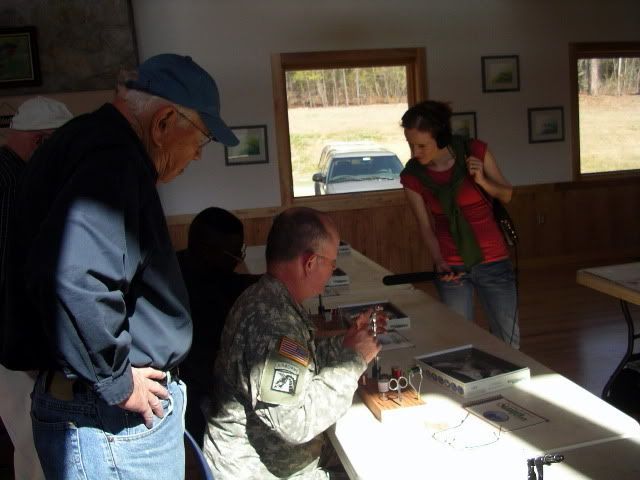 The last two and one half hours of the afternoon were spent trying their new skills and in the case of the fly tiers, their new creations, out on one thousand trout which are presently calling two of the Center's one acre ponds home. As usual (sorry guys), one of several female participants caught the first fish.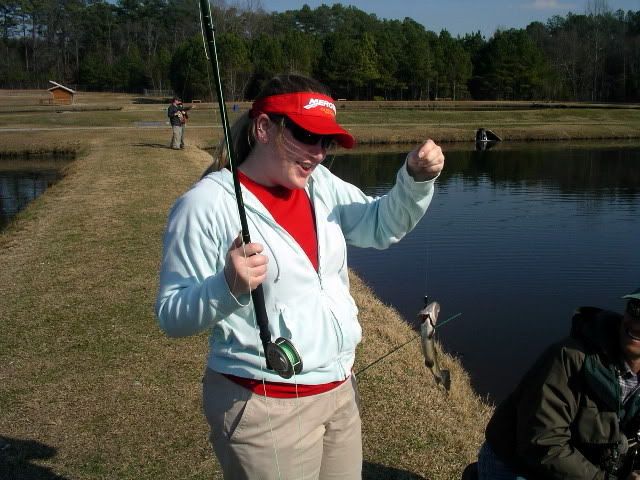 Not to be outdone, the guys were soon catching their share. The bite was pretty good today. There seems to be a hatch of emergers coming off the bottom of the ponds in the late afternoons which puts the fish in a more receptive mood.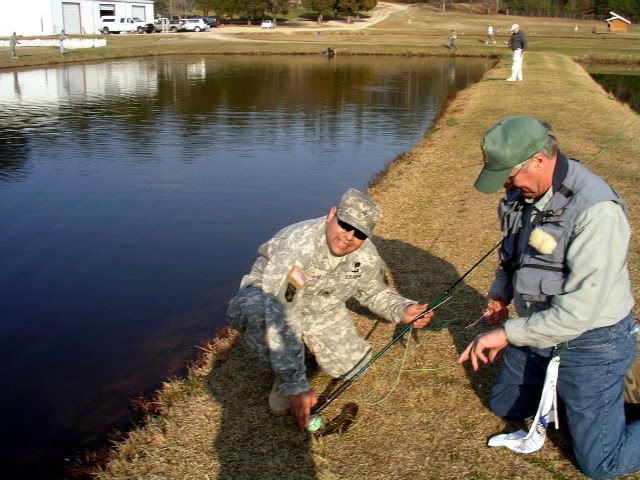 This fellow has been to everyone of our events and has turned into a very good fly fisherman. I saw him catch several very nice fish today. I think he was using some odd black with orange butt fly that one of the local volunteers claims catches fish most anywhere it is used. Last I heard he was offering to sell it to one of the other warriors at streamside prices.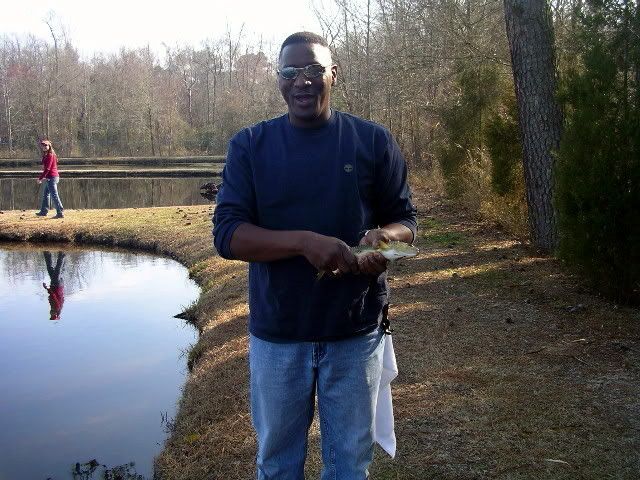 Everyone got in the act. Lots of smiles and lots of good nature ribbing. I suspect not many of them were thinking about tomorrow's round of appointments.
These young, and in some cases not so young, guys and gals make me proud to be an American. I leave these events with a skip in my step, a hum in my heart and my head held high. I drove home after the event knowing that everyone involved with hosting these events is doing a good thing.
Our next Wounded Warrior event is scheduled for Wednesday, March 12, 2008, from 1-5pm at the Pechmann Fishing Education Center.