Discussion Starter
·
#1
·
The NCWRC Pechmann Fishing Education Center in Fayetteville, NC hosted a group of 25+ Wounded Warriors for some fly fishing instruction on Wednesday, March 12, 2008. This is a continuing partnership between the Pechmann Center who provide the facility, Womack Army Medical Center who provide the participants and a group of local volunteers who provide all of the instruction.
Many of the Wounded Warriors have never had a fly rod in their hand which necessitates separating them out into groups based on skill levels. The "newbies" spend time learning rod assembly, knots and basic casting techniques. While this is going on we provide "hands on" fly tying instruction to the ones who have attended previous events. Fly tying has been a big hit at the WW events. Most of the participants start out "all thumbs" but some end up with some really nice looking flies. Every one of them are eager to expose their own creation to the ultimate test, on the fish ponds.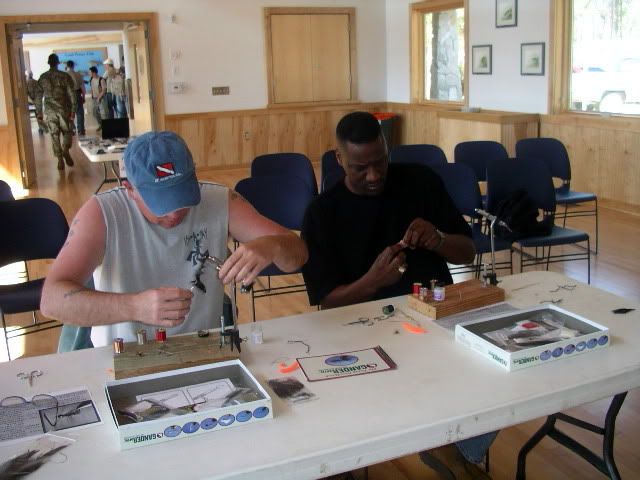 We always leave plenty of time for the highlight of the afternoon which is fishing on one of the many ponds at the Pechmann Center. Right now we have two ponds of trout that have been the star attraction for the Center's annual fly fishing clinics. These fish were fairly willing participants which put a smile on everyone's face. Looks like this one is jumping right up to be caught.
Not to worry, he got him under control. (Nice brown trout! - We have some in the ponds that push the 18 inch mark)
A few of the participants were accompanied by their spouse or children. This young fellow is having the time of his life.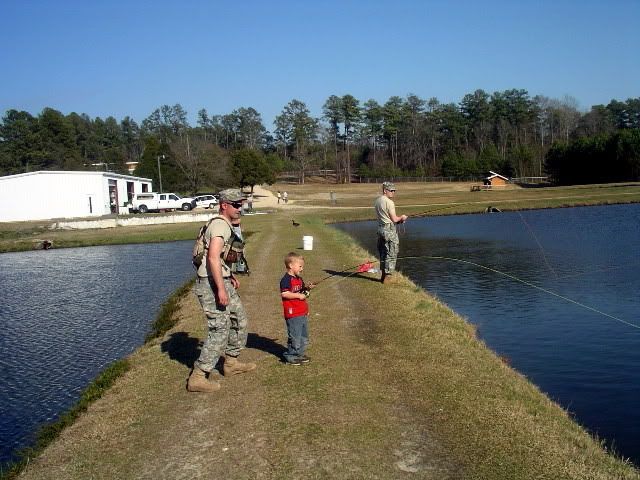 Nice catfish caught on an olive Woollybugger by spouse of one of the Wounded Warriors.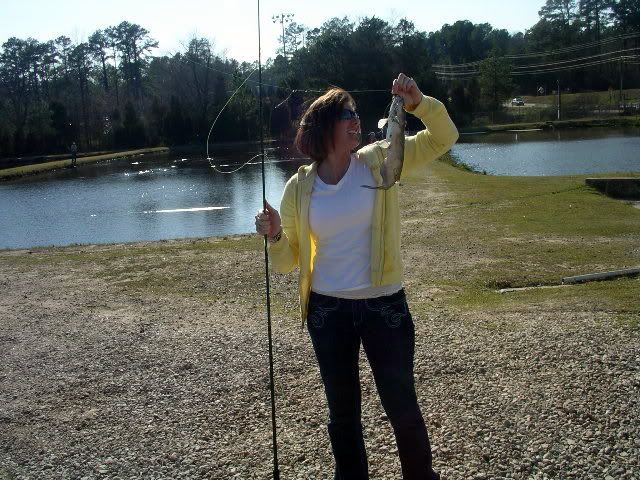 With the increasingly warm weather the phenomenon of "Trout in Fayetteville" is about to come to an end. With that in mind, the Director of the Pechmann Center, Kris Smith, allowed all trout caught by the Wounded Warriors to be placed on stringers. The cleaning station was a popular place at the end of the day.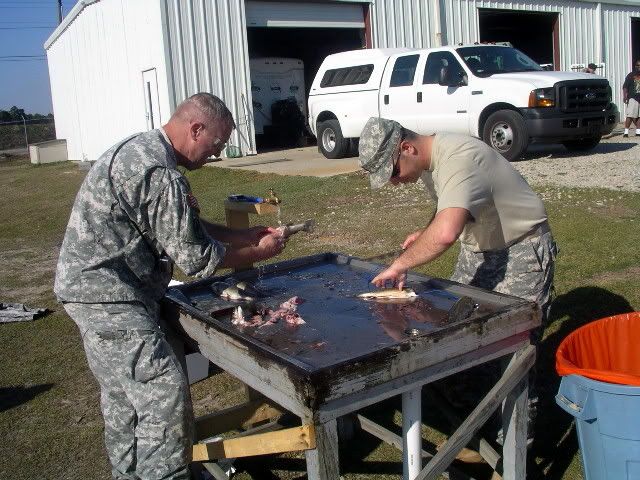 This is a great program. I am not sure who benefits most, the Wounded Warriors or the staff and volunteers who make it happen. We all leave at the end of the day knowing that we have been in the company of some very special people.
The next Wounded Warrior event at the Pechmann Center is scheduled for Wednesday, April 9, 2008 from 1-5pm