Discussion Starter
·
#1
·
Twenty or more Wounded Warriors found a short respite today from their constant round of scheduled medical appointments, administrative procedures and just plain worry about the future by grabbing a fly rod at the John E. Pechmann Fishing Education Center (JEPFEC) and trying their luck at catching the elusive trout. This Wounded Warrior Fly Fishing Program is a joint partnership between The Womack Army Medical Center (WAMC) at Fr Bragg, a Moore County fly fishing club and the NCWRC JEPFEC. JEPFEC furnishes the venue to include use of the facility, fishing gear and fish, the Moore County group and other local volunteers furnish the guidance and instruction and WAMC organizes the participants.
We started off the afternoon with a short orientation to fly fishing, followed by a little casting practice. We had enough volunteers to give many of them one on one instruction. Most of the guys and gals picked it up very quickly.
It was then off to the fish ponds, two of which were recently stocked with 500 trout each. First catch of the day was by this wounded warrior who gave a big yell to let everyone know he was claiming first fish.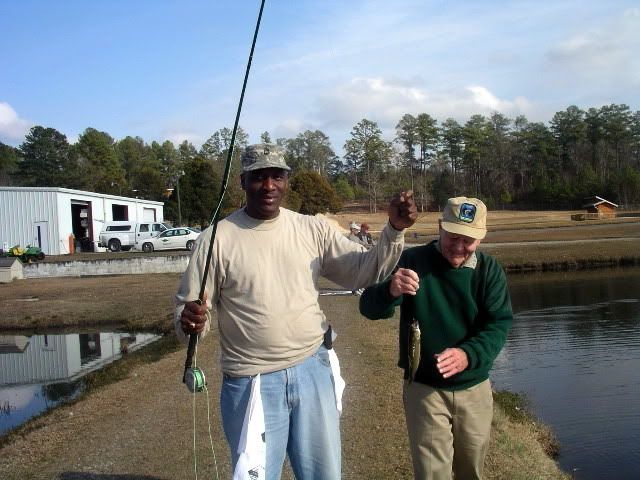 The weather was good and the bite was on. It was not long before there were a lot of smiles on faces and lots of good natured ribbing over who was catching the most or who had just landed the biggest fish. (some of the biggest ones seemed to have been hooked but dropped off before anyone could verify the size - but it was BIG)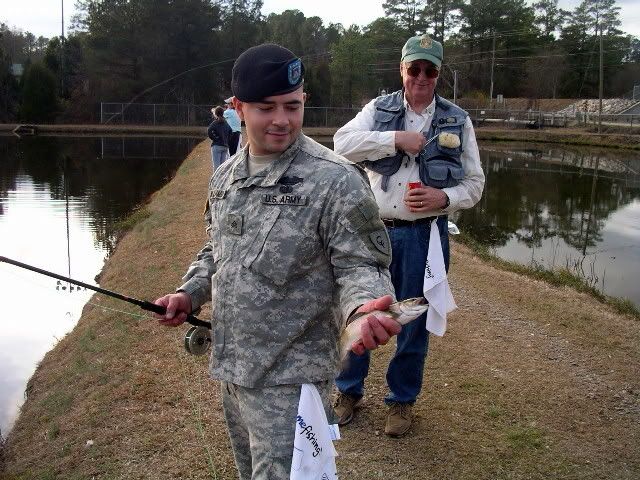 A few of the soldiers walked with the aid of a cane or crutches.One fellow displayed a metal leg. We brought out folding chairs and they smiled and participated despite these life altering handicaps.
Someone alerted the local TV station and they were there to record some of the smiles. I hope they took the names and address of those they interviewed and sent copies of the tape to the Wounded Warriors hometown so mom and dad can see some of the good things in their soldier's life.
You can just look at this soldiers smile and tell that he is having a good time.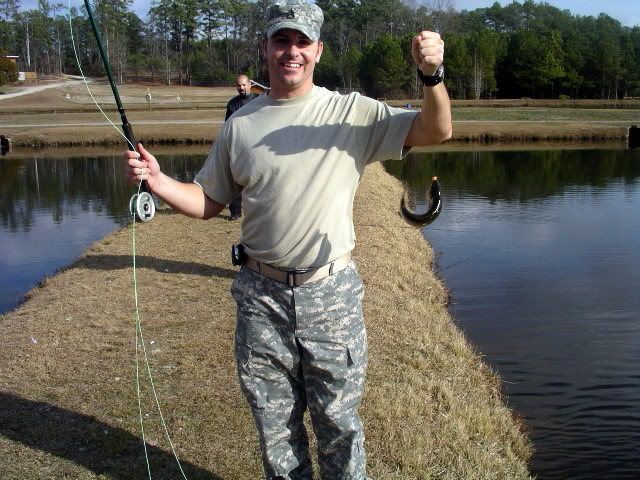 Our next Wounded Warrior event is scheduled for Monday, January 28, 2008. We will undoubtedly have new folks at each outing so our plan is to repeat knot tying and casting procedures at each event. We will also add variety to the program by showing them the basics of fly tying. All of the instruction comes from volunteers, each of whom are very proud to be involved with this program. We look at it as a small way to give back to those that have given so much to preserve our way of life.