Discussion Starter
·
#1
·
Let me start right off by apologizing for this being such a quick and short note about the Wounded Warrior Fly Fishing Program. I am heading off for a week of deer hunting in the morning and want to get this out while it is still fresh news.
The John E Pechmann Fishing Education Center (JEPFEC) located in Fayetteville, NC, partnered with a group of fly fishermen from the Pinehurst area and the Womack Army Medical Center (WAMC) to host a Wounded Warrior Fly Fishing Program on Thursday, November 15, 2007. This is a great program which gives wounded warriors a chance to learn fly fishing and more importantly to take their mind off their medical problems and what is happening with them at this troubling time in their military life.
The program started off with a brief classroom introduction to fly fishing followed by a short knot tying class and some hands on casting instruction. From there our small group of very enthusiastic wounded warriors went to the fish ponds where they tired out their new skills fishing for hybred striped bass and catfish.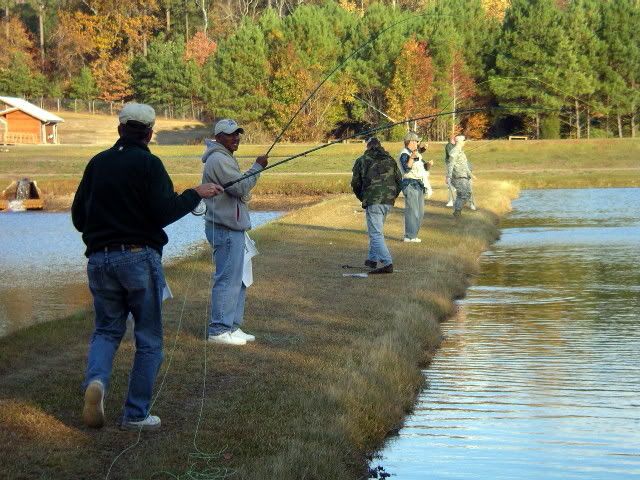 You can tell by the smiles that this was most likely the highlight of their day.
Everyone caught fish. Many caught well up into the double digits. We all agreed that hybred stripers on a flyrod are a blast.
Even the small fish of the day brought a smile to this soldiers face.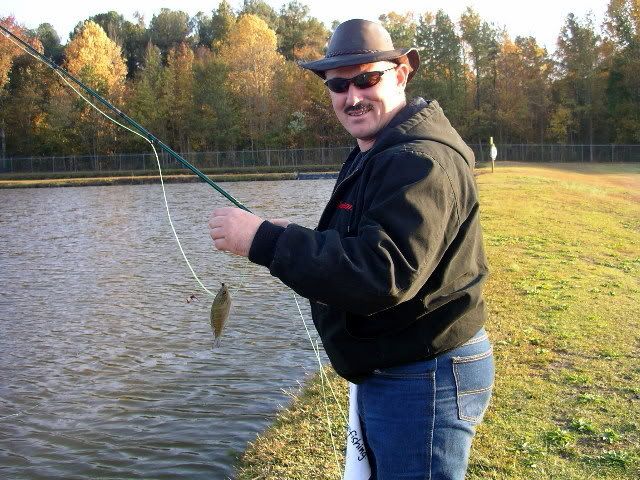 The LT who is also a wounded warrior was just another happy fisherman today.
Had to insert this photo in here - You folks have probably heard of RHIP (Rank Has Its Privilege) The LT got a headstart last week when he met me at the JEPFEC. I offered him my rod and some personal instruction that soon resulted in his catching this very respectable catfish.
As an old retired military man I have to close by saying that it gives me great pleasure to just be associated with these great soldiers. After watching and talking with them you can't help but come away with a catch in your throat and sense of pride. I know that everyone of the volunteers and the JEPFEC staff share my feelings. We hope that today's event was just the first of many.